Hooray! You've made it over the first hurdle in your SaaS management journey: acknowledging that you need a tool to wrangle all your SaaS. But, what platform will you use?
As with any SaaS solution your company buys, you need to make sure you're selecting the right SaaS management platform (SMP).
The benefits of the solution must justify the cost of it. A comprehensive SMP will help drive:
Looking for a partner is about finding the right match for your organization. While there's a lot to uncover when evaluating a SaaS management platform, there are the top five questions you should be asking providers.
Read on for what you should be looking for and expect a SaaS management platform to provide.
Q1: How does your software discover SaaS applications? 
SaaS is your biggest blind spot. In fact, many organizations underestimate how many apps they have and their total SaaS spend by 2-3X. 

That makes discovery a critical foundation for your SaaS management practice. After all, you can't manage what you can't see. 
Your SaaS management platform provider should use various means to discover SaaS within your business, including direct integration with financial, expense, and SSO solutions. 
Financial discovery is the key place to start, as that's typically the source of SaaS sprawl. 
The 2023 SaaS Management Index finds that 6% of SaaS by spend and 37% by application quantity are owned by employees. Not to mention, 51% of expenses are miscategorized. That's a ton of hidden software!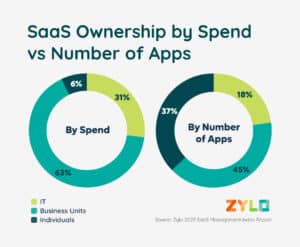 You'll see a variety of different matching methods across the market, but not all are created equal. 
AI-powered matching 

Rule-based matching 

Browser extensions

Single sign-on

(SSO)
At Zylo, we're partial to AI-powered matching, as it's more precise at finding all your SaaS – even the sneaky apps hiding in expense reports. Plus, it provides more flexibility and adaptability in recognizing new applications. Other solutions fall short in that respect.
"Zylo provided the AI we used to identify current titles and categorize them according to functional area, saved approximately 500 hours at the onset of the project and became the backbone of how we divided our software portfolio." 

– Vinod Vishwan, Sr. Director, Head of Business Planning & Operations at Adobe
Our advice: don't just go for good enough. The gap that remains is an enormous problem for your company in the form of unruly spending, compliance violations, security risk, and productivity issues.
Q2: How does your platform enable us to take action on the data it surfaces?
What good is the data if it's difficult to take action? When evaluating the best SaaS management platform, look for a tool that's not just a data depository. It should also surface insights and recommendations for optimization. 

It's one thing to take action but another entirely to be able to report on results. Tracking and measuring the cost savings and avoidance you achieve is a must-have in your SMP. 
For instance, Zylo Insights helps you prioritize high value actions easily. It highlights top insights across your portfolio and licenses, while the Savings Center quantifies the opportunities by financial impact. 
"With the help of Zylo, we unlocked $60 million in cost savings and avoidance."

– Cynthia Stoddard, SVP & CIO at Adobe
Capturing those wins is not only great for your company and proving the value of your SaaS management program. It's a big career win for you, making you look like a superhero to your boss!
Q3: What involvement will you require from our team during implementation?
An implementation process that's as minimally disruptive to your business as possible is ideal. Often, this looks like getting the implementation team the data they need to start the discovery process. 
When evaluating a partner, seek to understand the responsibilities of both parties and the time to get up and running.
SaaS management is a team sport. You'll want to include team members from across the business in implementation. Here are the roles you should involve and what expectations are for each.
Finance/FinOps:

It takes no more than one hour for your admin to set up the integration to your Financial (AP/expense) system.

App Owners/System Administrators

: These individuals assist with SSO and direct utilization integrations. For example, your SSO admin could expect to spend up to 30 minutes to set up the integration and confirm mapping. For system admins, setting up the direct integrations is an even lighter lift, typically requiring about 10 minutes per connection.

Contracts:

Your contract lifecycle management (CLM) system owner is needed to configure the integration. Typically that looks like 1-2 hours from subscription owner(s), Procurement, and Legal to provide service orders or Invoices to the provider and identify go-forward automated sharing of order forms. 

Project Manager

: Make sure you have a dedicated team member keeping everything on track internally, about 1-2 hours per week.
Our advice: getting your SaaS management platform set up doesn't happen overnight. But it is possible to realize value before implementation is complete. Make sure you set aside time to do what's needed and get the right people involved to begin with the best foot forward. 
Q4: What kind of customer support do you offer?
Customer support is table stakes. During your evaluation, understand whether you will have access to proactive, strategic resources – or just reactive support. 
If a vendor doesn't offer a dedicated resource, consider that a red flag. Look for a solution that provides resources to help you develop, implement, and measure a SaaS management strategy that drives results toward your company business goals.
Additionally, if you're considering services, use those backed by seasoned industry professionals that take a relationship-driven approach. The worst thing that can happen is your once healthy relationships turn sour because the vendor was beat up during a renewal negotiation.
With Zylo, our SaaS experts serve as an embedded member of your team. 
"Our Zylo resource is an embedded member in my team," said Ryan Johnson, former VP of IT and Internal Systems at Versapay. "The reception has been remarkably positive and we've seen immediate value." 
Q5: What measures do you take to ensure our data and business is secure?
Security controls and requirements of the SaaS management platform must meet your company's standards. Understand where your data is being stored and for how long. 
At minimum, your provider should be SOC II Type 2 compliant.  If you have employees in Europe, you likely need to ensure the SMP is GDPR compliant as well.
Your SMP should also be responsive to you and your security concerns. If you have specific needs regarding your business's privacy and security compliance or processes, the ideal vendor will be engaged and helpful moving the process forward quickly.
At Zylo, our focus on Security and Data Privacy goes beyond just checking a box. It's important to us that you're comfortable and compliant with the data you are sharing with the platform. Our dedicated security team is at-the-ready to help you address any concerns that may come up.
For more, check out Zylo's stance on security by visiting our Trust website here.
Thoroughly Evaluate Your SaaS Management Platform
As you've likely already concluded, there's an incredible amount of value you can glean from SaaS management. Select a partner that has your best interests at heart and won't accept "just good enough". 
By asking these questions, you'll gain a thorough understanding of what value you can expect from the SaaS management platform. To see if Zylo is a fit for you, schedule time with our SaaS experts.