It's been a busy quarter here at Zylo. In between getting certified by The ITAM Review, added to the Coupa Marketplace, and named an SAP Concur Partner Innovation Award Winner, we've been evolving our SaaS management and optimization platform to better serve our customers. 
We've made some big updates to help you innovate, improve the employee experience, and unlock the full value of your SaaS investments. Check out what's blooming in our Spring 2022 product release below.
Integrations
651.
That's the average number of SaaS applications a business now maintains. Zylo's integrations deliver unparalleled, actionable enterprise data across the nearly 20,000+ applications in the Zybrary™ management library. With our Spring 2022 product release, we've added new integrations to the list, in addition to making some powerful enhancements to existing ones. 

Gain Full SaaS Visibility with the Coupa Expense and Invoice Integration
Coupa is the cloud-based Business Spend Management (BSM) platform that unifies processes across supply chain, procurement, and finance functions. And now, Coupa Expense and Invoice is a source for financial discovery in Zylo, bringing full visibility to SaaS portfolios.
With the Zylo + Coupa Expense and Invoice Connector, organizations can easily find and classify SaaS purchases to optimize ongoing discovery, spend, and licenses, while mitigating risk. 
Gain visibility into software that is being purchased across the enterprise – even those applications not managed by IT

See all SaaS applications alongside usage, spend, and contract details with frictionless, ongoing monitoring

Surface and classify SaaS license purchases – whether IT-managed, line-of-business owned, or Shadow IT. Our

Discovery Engine

finds all your applications, even if they've been miscoded or improperly categorized in Coupa

Automatically sync Zylo with Coupa Expense and Invoice for a secure and reliable data exchange

Integrate Directly with Airtable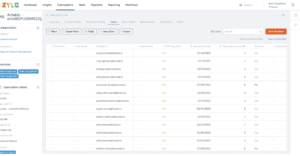 Airtable is a low-code platform that makes it easy to build powerful, custom applications. Customers can now use Zylo to maximize their Airtable subscriptions. 
Zylo's direct integration with Airtable provides insights into your organization's most and least active collaborators, empowering you to confidently deprovision inactive users, improve security, and drive more value from Airtable. 
Identify all Airtable collaborators

Analyze usage data, including engagement metrics, such as number of Workspaces and Bases, to understand user adoption and adapt licensing 

Bolster security by deprovisioning inactive users with automated license workflows 

View and analyze detailed usage data to forecast future licensing needs
Optimize Salesforce Licenses Using Custom Fields from the User Object 
Our Salesforce integration now pulls in custom fields from the User object to customize the Zylo user grid with your unique Salesforce data. Track important user information that is not provided by Salesforce to optimize SaaS licenses and usage. You can show or hide, filter and sort on custom fields.

Take Instant Action on Aha! Insights to Improve Security and Control Costs
To help you bolster security and control costs, we've enhanced our Aha integration with automated license deprovisioning. Beyond email and last login dates, we are capturing more user fields to gain greater visibility on application usage and take action on insights. These include:
paid vs. free license type 

created _at

productNames

roleDescriptions

userRoles

administrator

LicenseName

Self-Service Integration Configuration
We want you to be self-sufficient in our tool. To help you do just that, we've added new configuration capabilities for integrations. 
Add: Simply add integrations from the Zylo Integrations Dashboard
Reauthenticate: Update and save credentials on your own, and retain historical information when you make changes
Delete: Easily disconnect direct integrations you no longer need
DID YOU KNOW?

Zylo delivers actionable data across the nearly 20,000+ applications in the Zybrary management library.
Integrate Any HRIS System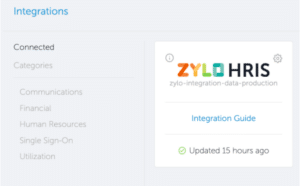 The detailed user information stored in your Human Resources Information System (HRIS) is foundational to your SaaS optimization efforts. 
Sync your most trusted source of user records with the Zylo HRIS Integration, so you can track SaaS usage and spend at any level, from departments to titles, to regions, and more.  
Instantly access state-of-the-art insights into usage and expense at any level (departments, employment status, regions, titles, etc.). 

Unlock deeper SaaS reporting with deeper data 

Quickly identify former employees that still have access to SaaS applications or are still expensing subscriptions

Rapidly re-deploy licenses made available by employee departures

Gain maximum flexibility to manage users in Zylo with automatic imports
Application Catalog
More than ever, it is critical to provide employees with access to the tools they need to get their work done, whether they are in the office, at home, or in a hybrid situation. With our Spring 2022 product release, we've added new functionality to our App Catalog to fuel employee effectiveness and productivity. 
Publish the Right Applications to the Right Users in Your Business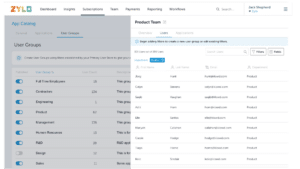 App Catalog now offers users a department-curated and IT-vetted selection of SaaS licenses, easily discoverable by role or user segment. Your users can quickly acquire the tools they need to effectively perform their work, reducing the temptation to introduce redundant applications and shadow IT. Beyond that, we also introduced an all-new App Catalog Admin experience to simplify user group management.
Business-approved tools and streamlined selection by user role/segment 

Fast-track employee onboarding

Quick access to role-specific applications to make their work easier, increase engagement and effectiveness

Empower admins to to provide a personalized experience for end users
DID YOU KNOW?

You can customize your App Catalog with your company's logo to give employees confidence when searching for and requesting company-approved SaaS applications.
Create Relevant Payment and Teams Reports in Real Time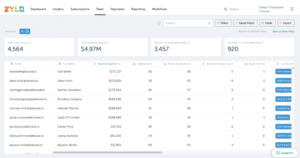 You need to visualize data your way – and now, you can.
With new Payment and Teams Reporting, you can create relevant reports on virtually any permutation you need to optimize your SaaS usage and spend. Save your filters for future use, and get your job done faster and easier. 
Filter and sort on payment and team data and save filters for reuse 

Use reports and insights to see what will move the needle most in SaaS optimization – employee-first and spend-management perspectives 

Analyze data easily within Zylo without having to download to Excel

Turn insights to action with new Zylo Insights on payments and users
DID YOU KNOW?

You can save filters in Zylo to easily monitor initiatives that are most important to your business.
Spring 2022 Product Release, Optimizing Your SaaS Investments
Ready to learn more about how these updates can help you optimize your SaaS investments? If you're an existing Zylo customer, reach out to your SaaS Consultant with any questions. If you're not a current customer, schedule a demo today to see Zylo in action and how these product enhancements can help you take your SaaS Management and Optimization to the next level.