CFOs once had complete oversight into their organizations' software spend. After vetting solutions, IT leaders purchased on-prem software that would serve business needs for several years — making software investments predictable.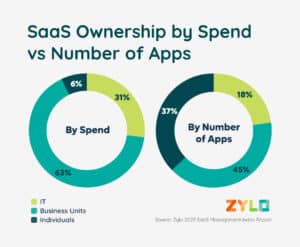 SaaS changed the industry. With the ability to purchase software with an employee credit card, SaaS spend often bypasses the traditional procurement process — and becomes decentralized. In fact, Zylo's 2023 SaaS Management Index shows business units now own 63% of SaaS spend, and individual SaaS spend dropped one point to 6%.
While the ease of SaaS acquisition gives employees quick access to the tools they need to innovate, it can cause frustrations for the CFO. Learn how a SaaS management platform can help CFOs regain control of SaaS spend.
How SaaS Sprawls
While employees might think downloading a Canva here or Trello there doesn't impact the business, consider this — the average organization spends $50 million annually on SaaS. 
Many companies, including Atlassian, Slack, and Basecamp, use a "land and expand" model as their selling strategy. Rather than selling large deals to executives, they take a bottom-up approach, first starting with one user on a free version. This quickly snowballs to teams using the app, then the whole company, which opens the door for the vendor to pitch, or even require, a paid version. 
The results? SaaS now accounts for the second-largest budget line item, next to headcount.
Why SaaS Spend Visibility Matters
To ensure fiscal responsibility, a CFO needs complete visibility into their company's spending. But with one out of five employees expensing SaaS, a large portion of software spend flies under the radar. We refer to this as shadow IT, which makes it difficult to maximize software investments.
Complete SaaS visibility gives CFOs the ability to:
Discover wasted spend due to duplicate purchases, redundant tools, or unused application licenses

Negotiate better deals during

contract renewals

Reallocate underutilized application licenses

Empower better

spend management

Forecast and budget for the future
How to Regain Control of Software Spend
A SaaS management platform that provides full visibility into a company's SaaS real estate places CFOs back in the driver's seat. This process starts with discovery, because you can't manage what you don't know exists. 
When the average organization sees eight new apps enter their ecosystem every 30 days, discovery must be ongoing. Zylo's AI- and ML-powered Discovery Engine finds SaaS — wherever it lurks — automatically and continuously, leaving little room for error.
The average organization only utilizes 56% of its provisioned SaaS licenses. With visibility, CFOs can optimize software spend by consolidating redundant applications, eliminating duplicate applications, reprovisioning unused licenses, and renewing with confidence. 
Zylo's SaaS management platform automates these tasks, instantly translating your company's data into actionable insights to optimize its growing SaaS portfolio. For example, Zylo's patent-pending technology helps eliminate unnecessary spend by spotting and reassigning or canceling licenses that sit unused across your organization. 
From there, CFOs can implement a SaaS governance framework to build and maintain an efficient and effective tech stack moving forward.
Ready to regain control of your SaaS spend? Learn how Zylo drives discovery, and request a demo today to see how Zylo's enterprise SaaS management platform and expert SaaS negotiator services can help you save up to 20% on SaaS with zero risk.