Even in the face of a global pandemic, SaaS remains a top priority for modern businesses.
How so? Just couple the staggering cloud growth  – 218% growth from February 2019 to February 2021 – with the average company relying on hundreds of apps to keep up-and-running. Jump ahead to today, and SaaS is now a nearly $2B market. Gartner predicts global SaaS spend will reach $195 billion by the end of 2023 – up from $167 billion in 2022.
However, this growth also signals the overwhelming need for effective SaaS Management. And by management, we're talking about more than just taking inventory of your apps.
As businesses become increasingly dependent on the cloud, a lack of proactive and flexible management creates huge implications on everything from budgets to employee productivity. Here's why it's time to manage SaaS.
Why Now is So Significant to Manage Your SaaS
The importance of SaaS Management is well documented. That said, let's look at how the current economic and business landscape is ramping up the need for better oversight.
SaaS Spending is on the Rise (With No Signs of Slowing Down)…
Conventional wisdom might say that now's the time for companies to slash their software investments.
In reality, SaaS spending is up. Although few industries are truly crisis-proof, SaaS flexible pricing and shorter-term commitments are attractive even in the face of a potential, short-term recession.
Perhaps the biggest contributor to the rise of SaaS is the ongoing, long-term transition toward remote work. Fact: 55% of executives and office workers expect to do most of their work remotely post-COVID.
From project management apps to conferencing tools, SaaS is the foundation for remote work.
Look no further than the boom of companies like Zoom (which is poised to approach $2 billion in revenue for the fiscal year) as evidence. Meanwhile, the work-management market (which includes tools such as Asana) is on track to grow to $32 billion within the next three years.
The takeaway? Cloud-based subscription software use is accelerating at a breakneck pace. While a future without any on-premises software management might seem like a pipe dream, that reality could be coming sooner rather than later for many companies. And if you don't have a plan to manage SaaS yet – it's best time you start.
…But Shadow IT and Waste are Still Out of Control
Unfortunately, the cloud explosion is only going to exacerbate existing problems related to SaaS management (or, in this case, mismanagement).
Consider that companies typically waste $17 million annually on the 44% of SaaS licenses that go underutilized in a given month. More distributed teams also mean more opportunities for software spending to fly under IT's radar when approvals can't be monitored in-person.
Also, spending and security-related snafus related to shadow IT could likewise snowball for companies who don't have their SaaS management on lockdown.
5 Key Opportunities to Manage SaaS at Your Organization
So, what are the tangible benefits of smarter SaaS management? And what does that process actually look like? Consider the following five upsides below.
1. Reduce Redundant and Overlapping Applications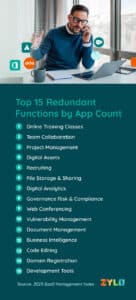 This is a big one.
Given the hundreds of software categories out there, to say that companies are spoiled for choice in terms of the tools they can use is an understatement.
The problem is that many of these tools have overlapping features and integrations that result in redundancies. Trying to comb through all of your tools "by hand" to detect repeats would be both tedious, time-consuming, and prone to error.
This is where a SaaS management platform like Zylo comes in handy. Rather than dig through your organization app-by-app, Zylo's Discovery Engine and system of record automatically detects redundant programs and highlights them in black and white. Beyond saving time and energy, this AI-driven approach to SaaS management means fewer questions concerning what's lurking in your software stack
2. Consolidate, Eliminate Subscriptions That Don't Serve Your Needs
Beyond identifying redundancies, companies with SaaS management can immediately drop subscriptions that no longer make sense.
Perhaps there are tools that you've "outgrown." Maybe there are tools that you thought were staples of your company are, in fact, underutilized.
This is something else Zylo can help with, identifying log-ins and logged-time for any given tool. By assessing time spent versus money spent, you can downsize or renew contracts for tools that you actually use
3. Rightsize Your SaaS Licenses
When employees start purchasing SaaS licenses without IT's approval, you start running into ownership and compliance issues. You likewise lose out on opportunities to save money through enterprise agreements versus EULAS.
Taking a more holistic approach to SaaS management, you can ensure that licenses are distributed to those who need them and that they're properly provisioned. Here's a snapshot of what that looks like within Zylo:

4. Manage SaaS Renewals Proactively
Let's be clear: There's nothing wrong with juggling a ton of SaaS tools. It's practically an expectation rather than an exception to the rule.
The key is making sure you aren't accidentally blowing out your budget as you scale up your stack. Having a constant pulse on upcoming renewals means you can consistently reassess your software needs and aren't caught off-guard but an expensive auto-renewal. Something as simple as renewal alerts and status updates can keep your company in the loop.
5. Encourage Self-Service Support for SaaS
What if your employees could pick and choose pre-approved apps without having to go directly through IT each time a new tool was needed?
Think of this as the sort of end-game of SaaS management, bringing us full-circle. When companies have an established approval process and a keen eye on contracts and renewals, you cut down on waste and opportunities for apps to fly under the radar. This results in faster adoption and fewer bottlenecks for your employees (and IT). In short, a win-win.
RELATED: Zylo's App Catalog Ensures Compliant Employee Self-Service for SaaS
How Does Your Organization Manage SaaS?
Creating an efficient, well-organized process for managing SaaS is a must-do for any company that wants to succeed in the increasingly cloud-focused digital world.
This is especially true as SaaS spending continues to grow and more companies embrace remote work.
With a tool like Zylo, you can start addressing all of your SaaS management concerns ASAP and put your organization on the path toward streamlining software adoption. See it action – request your free demo today.