We interact with a lot of teams across the spectrum of technology acquisition and management here at Zylo. From procurement, sourcing, and vendor management teams to CIOs, enterprise architects, and software asset managers, there's a wide range of disciplines interested in reducing the potential risks from explosive SaaS growth and optimizing the value of their SaaS portfolio investment. But how do you unlock enterprise SaaS savings for your organization?
Here are four ways to leverage cost savings and improve the value of your SaaS investments.
Eliminate Duplicate or Redundant SaaS Applications
SaaS applications for business teams are incredibly easy to purchase and easy to deploy – but also easy to forget. Coupled with the fact that SaaS ownership is frequently in the hands of business units, teams or employees – and not centrally managed by IT – there's also the potential for duplication and redundancy across the organization. According to IDC, more than 50% of all technology spending by businesses falls within line of business budgets, not IT.
When Zylo initially works with new customers, we find that they often underestimate their application inventory by two to three times. Meaning they think they have 300 applications, but in reality have 600-900. Much of this inventory is comprised of duplicate applications (the same application with multiple subscriptions across the organization), as well those with overlapping functionality (redundant applications, apps that accomplish the same function). Cutting this SaaS application "fat" and eliminating applications frequently leads to significant cost savings for enterprises.
To identify SaaS these cost savings opportunities, technology managers must engage in a discovery process to identify what applications are present across the organization. A SaaS Management platform can speed this process.
After every application has been identified and placed in a central system of record, value-focused teams can begin the collaborative process of eliminating applications that are no longer needed, consolidating applications to reduce overall spend (more on this later), and standardizing applications for specific business functions.
Proactively Manage SaaS Renewals with a Renewal Calendar
Mismanaged renewals are another contributing factor to the proliferation of SaaS – and often result in money being left on the table during negotiations. Automatic renewals have the upsides of continuity and convenience, but missing a renewal date effectively locks the business into a new billing cycle — whether the application is needed or not. Preventing an unneeded renewal presents a significant opportunity to recoup value. On average, Zylo customers experience nearly one SaaS renewal every day.
To avoid the cost of missed renewals, we recommend building a database of all of your SaaS applications and building a proactive renewal calendar. Just as each application should have its functional category, owner, cost center, and value listed in the database, its renewal notification period and renewal date should also be included.
By planning dates in advance and prioritizing application renewal decision-making by value and impact to the organization, technology managers can ensure that automatic renewals are proactive, not reactive, and that value is preserved.
Reprovision or Eliminate Underutilized Licenses
How many SaaS licenses in your organization go unused or underused? Measuring your SaaS tech stack with a focus on utilization, then managing applications based on that data is another way to reap more value. According to our 2023 SaaS Management Index report, the average organization is only utilizing 56% of their provisioned licenses – meaning 44% of licenses are wasted, unused and ripe for optimization. And when you consider that the average organization spends $50M on SaaS annually – the potential savings is huge.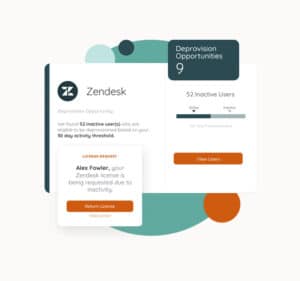 Imagine the following scenario: Your organization has a large enterprise-wide SaaS application like a CRM. The tool's contract affords a finite number of seats to deploy to users. How can technology managers ensure that provisioned users are using their seats in a way that maximizes their value?
For many organizations, this is where a SaaS Management tool comes in handy, especially if it features direct integrations into multiple applications.
By measuring usage activity, teams responsible for optimizing SaaS can deploy workflows to identify underutilized seats and, if necessary, reprovision them to users who will use them more actively. If there is not a group of users who can make use of unused seats, the contract can be right-sized at renewal.
Leverage Enterprise License Agreements
The converse of not enough users for an application is finding that multiple users across the business all have separate subscriptions to the same application. A proven way to recover value from existing SaaS spend is to consolidate these disparate instances under a single enterprise license agreement (ELA).
Not only are SaaS vendors more likely to provide a better overall per-user rate with an ELA, but it provides additional options such as multi-year discounts, caps on price increases, and clauses specific to security and governance, further protecting the organization.
To learn more about Zylo's recommendations for SaaS Management and value optimization, and about Zylo's SaaS management solution itself, contact us to schedule a demo.