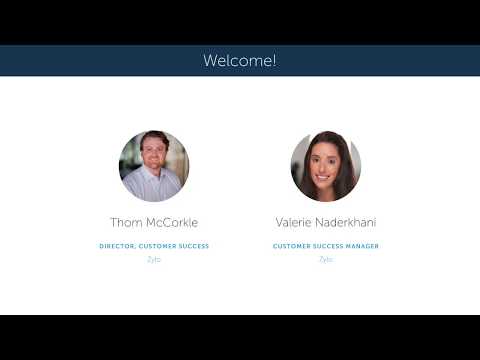 Zylo recently published SaaS Management Goals, a resource for IT, Procurement and technology leaders seeking to employ best practices and return more value from their SaaS investments.
During the accompanying webinar, Thom McCorkle, Zylo Director of Customer Success, hosted the session and was joined by customer success manager Valerie Naderkhani. They shared insights gleaned from consulting and advising Zylo customers across a wide range of industries who all face similar challenges managing and optimizing their growing SaaS tech investments.
The Continued Growth of SaaS
Gartner projects that SaaS revenue will grow nearly 18% in 2019, holding down the largest segment of the cloud market. But many organizations are investing much more heavily in SaaS as they evolve their tech stack. Some Zylo customers report that they've invested as much as 38% to 41% of their total software spend in SaaS and expect to invest more.
To answer these challenges of managing growing SaaS tech stacks, Zylo developed a set of five guiding goals for technology managers:
Capture
Contain
Cultivate
Calculate
SaaS Management Goal No. 1
Capture an inventory of all cloud-based applications.
You don't know what you don't know. And when it comes to your organization's SaaS investment, the unknown can create serious implications – think security risks, poor privacy protection, or cost overruns.
While on-premise enterprise software has typically been centrally managed by the IT team, the rise of SaaS-based tools featuring low costs, easy purchase options, and easy implementation have given rise to shadow IT – tools and technologies actively used by business units or employees but outside of IT's line of sight and governance.
The first step toward shining a light on shadow IT is discovering an accurate count of all apps in use across the business and loading that information into a system of record. For many organizations, this is a spreadsheet, but there are also SaaS management tools like Zylo that can help technology and vendor managers build an accurate inventory.
When customers first work with Zylo to create a system of record, on average, businesses find two to three times more SaaS applications than expected. And in some cases, more: In one example, a Zylo customer their employees used about dozen apps but later found more than a hundred across the organization.
Whether you're building a system of record using a spreadsheet or using a SaaS management tool such as Zylo, consider capturing these data points:
Accurate count of all apps
App ownership
Cost center
Renewal dates
Adoption and utilization data (if available)
SaaS Management Goal No. 2
Collaborate with business leaders across the enterprise.
Based on the system of record created via Goal No. 1, the next step for SaaS managers is to proactively collaborate with business units or line of business owners to define ownership and drive awareness about SaaS spending and usage.
Teams responsible for IT software and/or vendor management can often be viewed as "traffic cops" who control the routing and purchasing of software purchasing and use. With the steady adoption of SaaS, that role is outdated and irrelevant.
Instead, IT and vendor management teams should strive to be a partner to the business by building a framework that helps line of business owners make data-driven, collaborative decisions focused on driving more value from current apps.
Here are three examples recommended by Zylo:
Generate department-specific reports on SaaS count, spend and usage – Individual business until leaders control their own budgets and spending, so tailor reports from your SaaS system of record to reflect individual departments' views of app ownership.
Understand SaaS investments vary by department – If you're like many organizations, SaaS application usage will vary by department. For example, Marketing and HR tend to have higher concentrations of app ownership and usage due to the high number of specialized applications for these teams. Before engaging in discussions, make an effort to research individual apps and their respective roles in helping users reach their goals.
Understand the challenges – Deriving as much value as possible from software investments isn't always top of mind for leaders in other departments – they're focused on their own KPIs. Your CMO, for example, is likely primarily focused on creating effective Marketing campaigns, not necessarily optimizing their software spend. Keeping this in mind when kicking off an engagement can help drive more collaborative discussions.
SaaS Management Goal No. 3
Contain costs and controls around SaaS spend.
With an accurate inventory and engaged business units, the next goal is to align SaaS spending and usage with your organization's overall expectations. As more companies invest more heavily in SaaS, it's important to note that containing costs doesn't necessarily mean reduced SaaS spending.The goal is to contain costs through effective visibility and processes that optimize value for the investment being made.
Here are four strategic plays to contain costs and improve SaaS value:
Reduce multi-source spending – One of the most common unplanned impacts from SaaS spend comes from multiple business units purchasing the same SaaS applications. By consolidating or centralizing all necessary purchases into a single transaction, enterprises can frequently obtain better pricing and value.
Eliminate redundant apps or platforms – Most organizations have prescribed a standard software application for particular needs, but even with these standards, there are still frequently redundant apps that are essentially performing the same functions within the business.
Some of the most common solution redundancies Zylo customers encounter are video conferencing/online meetings, file sharing, project management, and collaboration tools.
Create value by using enterprise-level agreements (ELAs) – After eliminating as much spend as possible in the above examples, many Zylo customers achieve greater cost containment by leveraging the buying power of their organizations via ELAs.
Buying in bulk almost always improves overall value. ELAs offer the added benefit of more specifically defined, enterprise-favorable terms when compared to the default user agreements in place when individual employees agree to purchase applications.
Optimize license management – For software licenses or seats already under ELA, it's important to ensure that provisioned licenses or seats are being used. SaaS managers can optimize license management by designing workflows to claw back and reprovision unused or under-used licenses or seats. If and when the ELA renews, SaaS managers can also right-size license to more accurately fit their organization's needs.
SaaS Management Goal No. 4
Cultivate best practices for SaaS adoption, management, and governance.
One of the difficult aspects of the process of establishing SaaS best practices is creating a continuous, ongoing cycle where best practices for SaaS adoption and governance are actively managed.
To do so, look to establish and maintain the following practices:
Continual discovery – Proactive SaaS management includes updating and adding new inventory to the system of record on a regular basis. Upkeeping inventory helps ensure decision-makers are acting on the most up-to-date information available. It also requires comparatively less effort than re-establishing an inventory on an irregular basis. Zylo recommends monthly updates if possible.
Renewal management – Automatic renewal clauses can be a headache if not proactively managed and decided upon prior to the renewal date. Identifying all upcoming SaaS renewals in the next three to six months and the stakeholders necessary to approve or reject the renewal provides SaaS managers and their colleagues the time to cultivate information on spend, utilization, and sentiment to make informed renewal decisions.
SaaS adoption and utilization benchmarks – Similar to renewals, its recommended SaaS managers play an active role in helping app owners determine appropriate benchmarks for SaaS app adoption and utilization among users. Questions to answer include: How many users need to adopt a new application for it to be considered a successful rollout? How many users need to continue to utilize that application on a regular basis to justify the investment? What is the threshold for lack of use that indicates an app is ill-suited for the organization's needs?
SaaS implementation and on-boarding – Many organizations recognize that SaaS helps make their organizations become more agile and effective, but still also require due diligence before introducing a new application to their technology stack. Effective implementation and on-boarding best practices can include legal review, security and compliance review, setting adoption and usage benchmarks, and integration into single sign-on systems
SaaS Management Goal No. 5
Calculate the ROI of technology investments.
Ultimately, like any other investment in tools for the business, Saas applications need to demonstrate the ROI or value they deliver. When deploying a set of SaaS management goals and associated best practices, consider the following criteria for determining ROI or value of investment:
Actual cost savings and spend reductions – Eliminating unused applications, preventing an unneeded renewal and consolidating app redundancies can all yield hard cost savings.
Improved continuous budget forecasting and accuracy – Not only is this impactful for future budgeting and decision-making, but changes will inevitably arise, causing the analysis to be out of date if not appropriately attended to.
Effective adoption of tools – With benchmarks around application adoption established, businesses can derive more value from the tools they implement.
Employee experience – Enabling employee productivity is a key goal of SaaS applications. Quantitatively measuring employee experience in applications can help set benchmarks that can aid decision-making. Measures like NPS can help SaaS managers determine individual apps' effectiveness within the organization.
Customer experience – If and when an application interfaces with customers, experience is extremely important. Do your applications improve the value of the customer's experience or create more efficient workflows to address customer needs? Examples can include customer communication tools such as email marketing, web conferencing or other message platforms.
Set Your Goals Now
Set your SaaS management goals today to start producing more visibility, value, and governance around your organization's' technology investment. For more information and details, request a demo.